Weekly Winners (12-2016)
Financial markets seem to be quieting down after a few months of insane spikes, buyouts and other speculations. No 1000% gains, or sudden losses. But, enough interesting cards to report. So, once again, I present you the cards that will be the talk of the town tonight.


See something interesting, or do you have a question? Send me a tweet: @MTGPeter
A few weeks ago, a very interesting and flavorful card from the upcoming set, Shadows over Innistrad, was spoiled. It generated quite a hype, and the card already has a nickname (or abbreviation): TITI. Thing in the Ice.
For only 1U you get a decent 0/4 wall, that can turn into a 7/8 incredibly quick. And with the extra upside that all non-horror creatures are bounced. Yours, but more importantly, the non-horrors your opponents play. Hunted Horror, this week's #1 winner is a horror. A 7/7 for BB, with the slight downside that you give your opponents creatures that can hunt down your horror. With Awoken Horror, you can bounce those creatures, giving you a huge upside, upon an upside.
This obvious synergy caused a spike last weekend, and a quick dwindling of the price afterward. The graph doesn't look that impressive, since Hunted Horror already lost a lot of value after its initial spike. But even the current price difference is +91.7%, and is seems the card is picking up value again (just a little).
Is this synergy good enough? And in what format? That is the big question with Hunted Horror and Thing in the Ice. Hunted Horror is not standard legal, and for Modern and Legacy this synergy is not powerful enough. A 8/8 with trample for BB seems powerful, but in both formats you have better options. In Legacy for example, BB gives you Hymn to Tourach, a card that can set back your opponent several turns, or in some cases a resolved Hymn can be a destructive blow to their plan they can never come back from.
Unless someone brews a deck that is powerful enough and really has priority for Hunted Horror, the card will probably end up in EDH and Casual magic. On the other hand, we don't know what else will be printed in the new Innistrad block, maybe something will make the horror-non-horror strategy competitive enough in eternal formats.
Also consider that some well known cards are horrors:
On April 9th, KTK and FRF rotate out of standard, and SOI rotates in. This also means that Fetch land will rotate out, and a new land cycle will rotate in. This is important for Standard, because there is a fine balance needed between your mana base, and the non-land cards you play in a deck. When you have to switch to other lands, this has an impact on what decks (with how many different colors) you can play.
In the SOI spoilers, we have seen this new rare land cycle: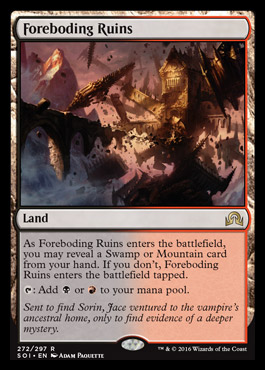 These 'foreboding' lands all do the same: you may reveal two color corresponding land types and have the card enter the battlefield untapped. When I read this card I thought all lands in the cycle would be called forboding. Forboding Tomb, Foreboding Foothills, etc. Sadly, this is not the case, so you can warm up for another discussion on how to name these lands.
This brings me to that other land cycle. Because, is this new cycle of 'foreboding lands', better than the other cycle of 'tango/ battle/ slow lands' from BFZ'? If you want to play 4 B/R lands, which one will you choose, the first or the latter? Traders and players don't seem to be taking any risk, and the price of the 'tango/ battle/ slow lands' seems to be creeping up. On the other hand, those lands have not suddenly spiked in price, and that could have been the case if the SOI lands would be much less powerful.
Don't be too impressed about this graph. It spikes high, but the actual price difference is 'just' $0.90 since last week. City of Solitude is the next chapter in the reserved list hype. But this time, there seems to be no huge price spike, no full buyout and no insane price for a card that sees almost no play. But City of Solitude is a card that is almost good enough for Legacy, but since it is 2G, almost always too expensive, because decks that want to play it have access to cards like Xantid Swarm, or Silence or Choke.
The price increase of City of Solitude could mean that the reserved list hype is ending. Those other spikes inflated the price, but now what? Nobody is buying many of the cards, simply because they are not that good, for that price.
My analysis it that a $4 price tag for City of Solitude is about right for what the card can do. It is from a set with a small print run, it's hard to get a hold of and when resolved it is bound to cause people a headache, since the whole timing of the game changes. So, this could very well be a price correction; people browsing though the reserved list saw City of Solitude and decided to buy it, because it seems like a powerful and potentially fun card to play.
Record breakers
This week, I will present you the record breakers of this week. Below you will see cards that are at their all time high or at their all time low. These cards could get more expensive, cheaper, or remain at the same price level in the near future.
Tarmogoyf ($143.49)
ALL TIME LOW
Reprinted in MM1 and MM2, Goyf took a dive and is now more affordable.
$30 around pre-release, Sorin down ever since.
Once a $5 card, Sorin up since.

See something interesting, or do you have a question? Send me a tweet: @MTGPeter
---